Team
The Swiss specialist of gold purchase, gold sale, purchase of all your precious metals, precious stones, sale and purchase of luxury watches of occasions, collections, vintage.
Our buyers will evaluate your property and submit an offer on official courses. You will be paid immediately cash according to the legislation in force. We work with certified scales, you will find yourself the weight on the scale in the respect of the laws.
We offer free expert advice.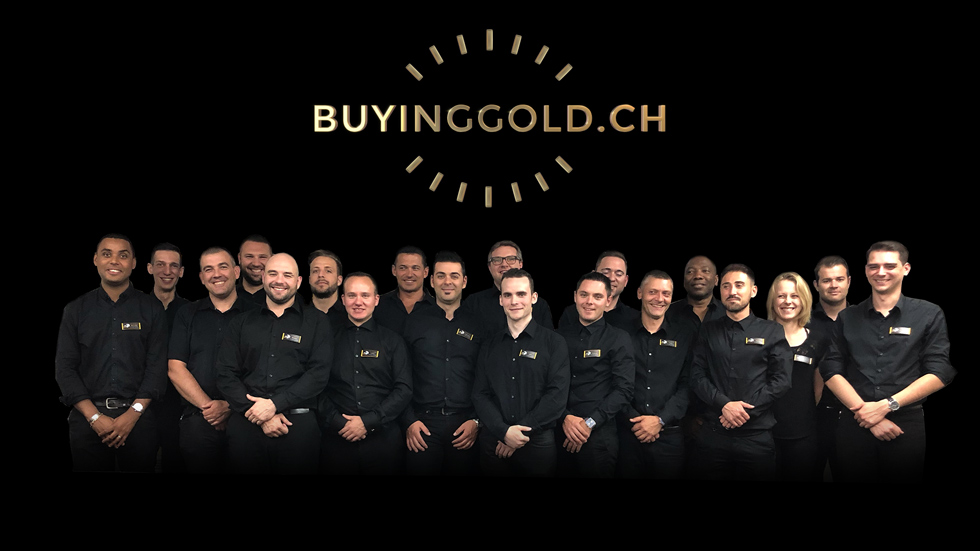 Legal Notice
Gold Business Time SARL
Luxury Jewelery & Watches
Precious metal trading
Infos
Gold Business Time SARL
Rue de la gare 39
1260 NYON-CH
[email protected]
+41 (0)22 362 01 01
CHE-111.995.239
IDE CHE-111.995.239
BANK COORDINATES :
Gold Business Time SARL
1260 NYON
Bank : UBS SA Switzerland
Account no : 228-558521.01G
IBAN : CH89 0022 8228 5585 2101 G
BIC : UBSWCHZH80A
+ infos :
buyinggold.ch
www.watchesandjewels.ch
Nyon (Vaud) : Rue de la Gare, 39
+41 (0)22 362 01 01
Geneva 1 Train Station (Geneva) : Boulevard James Fazy, 12
+41 (0)22 732 24 24
Geneva 2 Eaux-Vives (Geneva) : Av. Pictet de Rochemont, 5
+41 (0)22 740 55 55
Geneva 3 Confederation Centre (Geneva) : Rue de la Confédération 5
+41 (0) 22 810 47 47
Winterthur: Obertor 40
+ 41 (0)52 233 62 62
Le Grand-Saconnex: Route de Ferney 169
+ 41 (0)22 362 47 47
Bellevue (Geneva) : Route de Lausanne, 337
+41 (0)22 362 01 01
Etoy (Vaud) : Route Suisse, 10
+41 (0)21 843 12 12
Lausanne 1 Train Station (Vaud) : Avenue de la Gare, 6
+41 (0)21 323 24 24
Lausanne 2 Terreaux (Vaud) : Rue des Terreaux, 20
+41 (0)21 323 04 04
Yverdon (Vaud) : Rue de Neuchatel 10
+41 (0)24 430 44 44
Neuchatel: Rue des Poteaux 3
+41 32 724 83 83
Biel (Bern) : Zentralstrasse 30
+41 (0)32 914 05 05
La Chaux De Fonds (Neuchâtel) : Léopold-Robert 74
+41 32 968 42 42
Vevey (Vaud) : Rue du Conseil, 19
+41 (0)21 922 13 13
Montreux (Vaud) : Grand Rue, 84
+41 (0) 22 732 24 24
Bulle (Friborg) : Rue de Vevey, 16
+41 (0)26 919 34 34
Monthey (Valais) : Place de l'Eglise, 5
+41 (0)24 472 44 44
Martigny (Valais) : Rue de la Poste, 7
+41 (0) 27 722 55 55
Uvrier (Valais) : Route du Simplon 82
+41 (0) 27 203 49 49
Sierre (Valais) : Route de Sion, 21
+41 (0)27 456 74 74
Fribourg (Fribourg) : Rue Saint-Pierre, 10
+41 (0)26 495 36 36
Basel 1 (Basel) : Aeschenvorstadt 36
+41 (0)61 283 16 16
Basel 2 (Basel) : Untere Rebgasse 18
+41 (0)61 222 26 26
Soleur: Hauptgasse 29
+41 (0)32 322 62 62
Zurich 1 (Zurich) : Uraniastrasse 40
+41 (0)44 202 17 17
Zurich 2 (Zurich) : Schifflände 16
+41 (0)44 350 47 47
Luzern (Lucerne) : Pilatusstrasse 17a
+41 (0)41 282 44 44
Bus (L' Abbaye) : Route de l'Hôtel de ville, 14
+41 (0) 22 362 01 01
Bern (Bern) : Gurtengasse 6
+41 31 318 86 86
Lugano (Ticino) : Via al forte 10
+41 (0)91 921 07 07
Saint-Gall: Spisergasse 23
+41 71 446 27 27
Locarno: Via della posta 6
+41 91 751 47 47