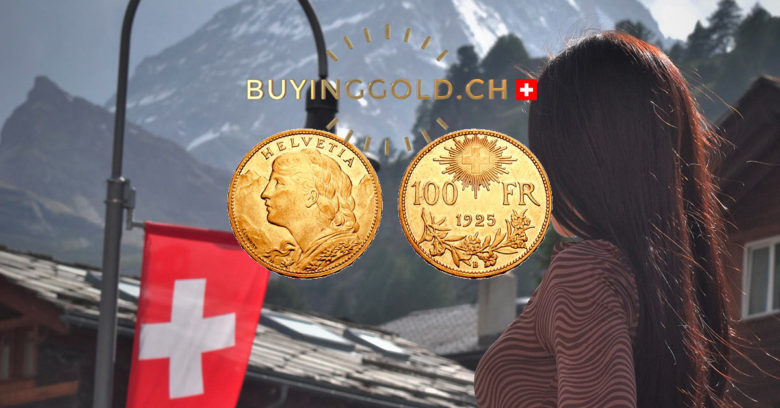 The Vreneli gold coin was first minted in Switzerland in 1897, so any Swiss gold coin that was minted prior to that date would not be considered a genuine Vreneli coin. The oldest Vreneli coin would therefore be a coin that was minted in 1897 or later.
They usually are made of 90% of gold and 10% of copper, except for the very first 29 Verneli coins minted in 1897 with an alloy containing also silver, making them look with a lighter color.
Vreneli coins were originally minted in denominations of 10 and 20 Swiss francs and were made of gold. They were first issued in 1897 and were in circulation until 1949, when they were replaced by a new series of coins.
The coins feature on the obverse a depiction of a young woman with braided hair on the first versions of the coin, and then with long, flowing hair for latter iterations and is often depicted wearing a crown of flowers, and the Swiss coat of arms on the reverse. The woman, known as "Helvetia," is a symbol of the Swiss Confederation, also giving this coin the name of Helvetia coin.
The woman on the coin is known as "Vreneli," which is a Swiss German diminutive of the name "Verena."
Why was this name used for this coin? Saint Verena is revered as a Saint by both the catholic and the orthodox church. Despite being from Egypt she came to what is now Switzerland to live a life of hermit until her death in the first part of the 4th century. It is in Bad Zurzarch, where she is believed to be buried that a cult started in the 12th century.
The name Verena became a very common name among girls in Switzerland with its diminutive Vreneli.
The coins were popular in Switzerland and were widely used as currency. Today, they are highly sought after by collectors due to their rarity and historical significance. The value of a Vreneli coin is based on a combination of factors, including its rarity, condition, and gold content. If you look up online the general price of a 20 Swiss francs face value, the general price is around $370. Two versions from 1897 that have some defaults known as the Stirnlocken Vreneli and the Gondo Vreneli can have a price between 100,000 to 150,000 Swiss francs.