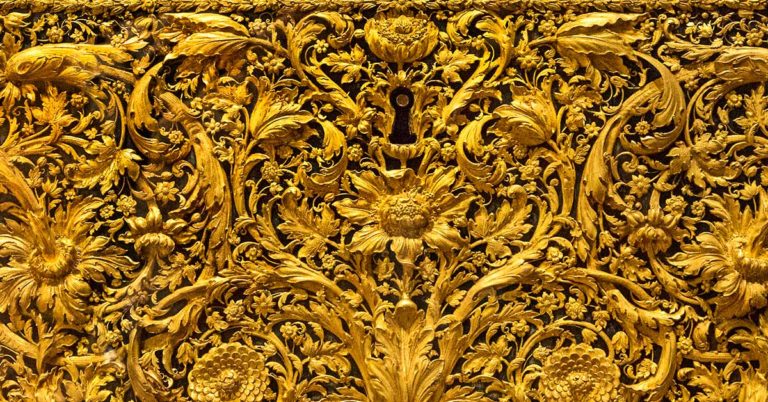 Gold is present in pictorial art in a spectacular way. In the Louvre, at the National Gallery, in the Prado and in all the museums of the world, many paintings represent bright objects covered with gold leaf.
In the Middle Ages, gold was often used to fill backgrounds. This is particularly the case of Byzantine icons. Gold is therefore a symbol of spirituality: in our material universe, it represents the splendor of the divine world and the shining light of the celestial kingdom.
As we leave the Middle Ages and enter the Renaissance era, gold underlays tend to disappear from paintings. The noble metal is thus reserved for the raising of a certain number of symbolic objects. Although in relief in most cases, these details are not made of solid gold! In general, painters created relief by accumulating materials, before covering this slight prominence of gold leaf. In general, gold is used on objects referring to power, wealth and status.
This is true, for example, for paintings depicting the Adoration of the Three Wise Men: we see the child Jesus surrounded by kings who came with their procession of armored horses and pages whose arms are loaded with gold presents: boxes , ship models, etc. The three kings themselves shine with a thousand lights passing through their crown and clothes. Subsequently, gold extends to a wider register. We thus find decorations in the hair and jewelry of the opulent women painted by Veronese, in the scenes depicting Jason and the Argonauts in search of the fleece of gold, in the Judgment of Paris, holding in his hand the golden apple of contention, and again in many other paintings.
Today, the golden decoratins of Renaissance paintings are resplendent as other colors have faded over the centuries.
ATCBG/EYS/ATC