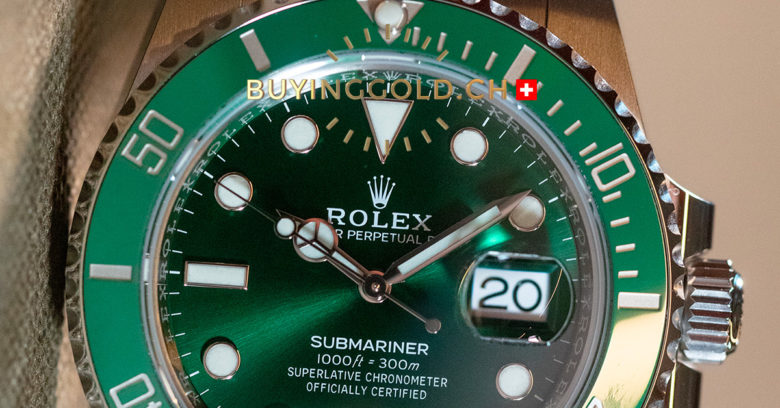 Rolex, a synonym for luxury watches
Rolex is one of the most famous and collected watch brands in the world. This allows most of these watches to retain their value, many years after they were put on the market.
The intrinsic qualities of Rolex watches, as well as the manufacturer's ability to introduce technological innovations, largely explain this deserved reputation, which has never been denied since the brand's creation in 1905.
However, the 1950s were a turning point for the Swiss brand, with the price of new watches constantly rising. Since then, Rolex has found itself in a paradoxical situation: never before have so many Rolex watches been worn, and yet their value continues to rise.
This reality concerning new watches is also confirmed for used Rolex watches, whose value continues to reach impressive levels. Selling your Rolex, especially if it is a limited edition, can be an excellent financial operation.
What are the most profitable Rolex to resell?
In order for a Rolex to maintain or increase in value, certain factors must be met: first, its rarity, then the year it was put on the market, the general condition, the specifications of the Rolex, including the complexity of the mechanism and the materials used in its manufacture.
The Rolex Submariner
This is one of the most popular Rolexes, and therefore also the most sought after. If you have one for sale, its value has probably held up very well. As the name suggests, this Rolex is known for its water resistance and durability, making it a "sporty" watch. The green "Hulk" and "Kermit" versions are particularly sought after because of their rarity.
Purchase watches – sell your watch
Rolex Cosmograph Daytona
Popularized by Paul Newman, this Rolex is a tribute to the world of motor racing. Proof of the enormous value of this watch, the Daytona 6239, was the most expensive watch in the world with a price of $17.8 million at auction in 2017.
Rolex Day-Date
This Rolex is more elegant than sporty. Its particularity lies in the display of the day of the week in the dial, hence its name.
Its value lies in its exclusivity as it is often made of 18K gold or platinum. If you own the "President" version in white gold 228239, reselling it will show you how much it retains its value. Even from a material point of view, you can't lose with this one.
Rolex GMT-Master II
The Rolex GMT-Master II takes its name from Greenwich Mean Time, the reference longitude for calculating times around the world. This Rolex allows to display two time zones. This made it the reference watch for aviators, having been designed initially in partnership with Pan American Airways. Since then its use has expanded to all lovers of watches with a functional and elegant design. Some versions with a two-tone blue and black or red and blue display are very popular with enthusiasts and collectors.