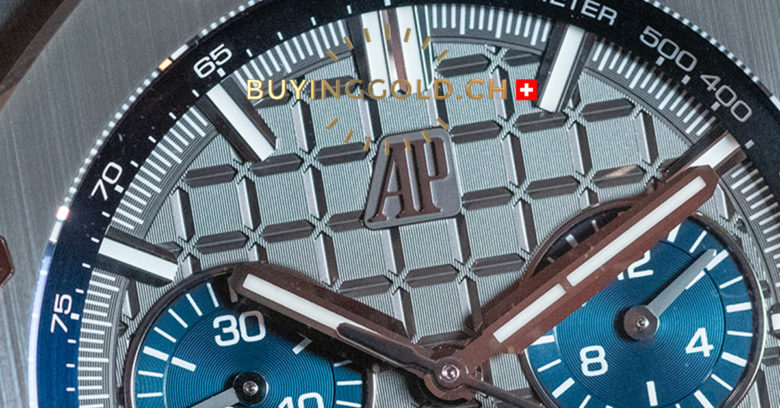 The year 1972 was an important year for watchmaking, and for Audemars Piguet in particular. For collectors looking to sell their used watches, this anniversary can be an excellent opportunity.
The famous watchmaker-designer Gerald Genta is credited with creating the Royal Oak for Audemars Piguet. If you are not yet familiar with the name Gerald Genta, he is one of the watchmaking geniuses whose designs and concepts have marked and continue to mark the history of the watch.
Some of these models are particularly valuable. Reselling a Royal Oak to a specialist can therefore be an interesting operation.
A few timepieces have done very well, and here are a few examples.
Royal Oak "Jumbo" Extra-Thin
With the Royal Oak "Jumbo" Extra-Thin, the Swiss watchmaker has decided to put forward a green dial of the most beautiful effect, protected by a case made of platinum. The feat is to house the mechanics in a space of 39 mm in circumference and a thickness of 8.1 mm. This variation of the Royal Oak allows, thanks to its automatic winding, to display the date, hours and minutes.
Purchase watches – sell your watch
Royal Oak Skeleton Double Openworked Balance
Another valuable watch for collectors is the Royal Oak Skeleton, a sure bet for watch lovers. The transparency of its dial allows one to admire the mechanics of this model, which appeared in 2016. Its originality lies in a double parallel balance, which allows for greater precision in timing. Its platinum finish allows for a transparency effect associated with touches of pink and yellow gold, which will delight lovers of precision mechanics.
Royal Oak Self-Winding Chronograph 41mm
In order to satisfy the most exuberant, a sporty 41mm version of the Royal Oak in pink gold has been designed by Audemars Piguet.
It incorporates a chronograph, a first for the Royal Oak series, equipped with flyback, a patented technology that allows the chronograph to be reset without stopping or even resetting it.
The strength of Audemars Piguet Royal Oak watches lies in their timeless design and allow the brand to survive all fashions. This explains why these models do not suffer from the slightest difficulty, and why their resale is just as easy.